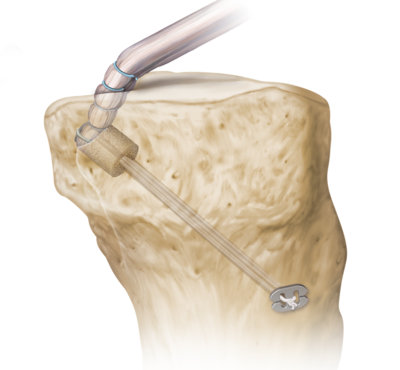 Posterior Cruciate Ligament Injuries are relatively rare. But when it does occur it can sometimes be a challenge to provide accurate treatment. The most common method of posterior cruciate ligament reconstruction utilizes a transtibial tunnel in which the graft must pass around an acute angle at the posterior aspect of the tibia.
It is believed that a graft in this orientation would be subjected to high local tissue strains as a consequence, probably attributing to the high rate of abnormal posterior laxity after PCL reconstructions. In addition, it is unclear whether the tibial tunnel can be accurately and consistently placed within the tibial insertion footprint of the native PCL with this technique. For these reasons, we have sought other reconstruction techniques in an attempt to improve clinical outcomes.
The Tibial Inlay Technique for posterior cruciate ligament reconstruction, first introduced in Europe, is superior to the tunnel technique with respect to graft failure, graft thinning, and permanent increase in graft length. At Fortis Malar Hospital, this advanced technique is used to reconstruct the PCL.