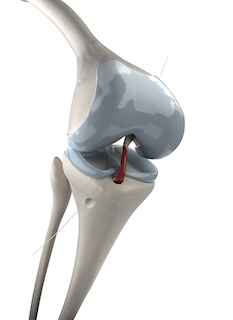 Knee Ligament injuries (ACL-Anterior Cruciate Ligament)) can occur following sporting activities or Road Accidents. A torn ACL will not heal without surgery. Not treating a torn ACL can lead to further tissue damage and premature knee arthritis. Seniors, with less demanding daily activities, can be treated by exercises. ACL reconstruction surgery may be recommended for these knee problems in young people:
Knee that gives way or feels unstable during daily activities
Knee pain, swelling, locking
Inability to continue playing sports or other activities
When other ligaments or meniscus are also injured
Before choosing to have this surgery, you should understand the time and effort it will take for you to recover. Although you will be able to walk and climb stairs within 2 days after surgery, you will need to stick to a program for 2-3 months before you can return to full activity. You can return to light work in 3 weeks after surgery and can drive a car in 6 weeks. The success of the surgery depends on how well you co-operate with your rehabilitation program.
Now, improvements in the surgical technique and rehabilitation methods provide much better results. These improvements include less pain and stiffness, less hospitalisation, and faster recovery time. You will have a stable knee that does not give way after ACL reconstruction. Cost of surgery depends upon the type of room availed and can vary from Rs. 75,000/- up to Rs. 1,50,000/-