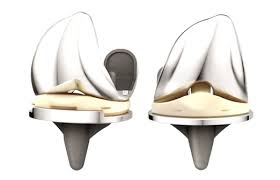 Implants Used in Surgery
The knee joint is basically a hinge joint with some rotational and gliding movement. The parts come in 3 - 4 pieces of varying sizes to suit different sizes of knees. They weigh around 500 grams in all. Contrary to popular belief the knee joint is not entirely removed and replaced with artificial parts. Instead, only the worn out surfaces are sliced away, using sophisticated jigs and occasionally computer guidance and resurfaced with a combination of metallic and plastic implants.
The Femoral component is made up of Cobalt-Chromium alloy, the Tibial component of Titanium and the middle spacer of High-Density PolyEthylene. Occasionally the kneecap is also replaced which is usually made of the same Polyethylene. We use Imported Implants only.
Implants for Knee Replacement
Sigma Total Knee System (DePuy)
Attune® Knee System (DePuy)
All patients are issued with an Implant certificate, consisting of the original manufacturer's bar-coded label, of each individual components used in every joint replacement surgery. Empty carton packing of the actual implanted material is also handed over to you.
Implants for Hip Replacement
Corail Hip Implants (DePuy)
Wagner Revision System (Zimmer)
A variety of combinations are available for Hip Replacement surgery. Materials used range from stainless steel, titanium, cobalt chromium and ceramic. Cemented, cementless, hybrid and several combinations are used in accordance with patient requirements.