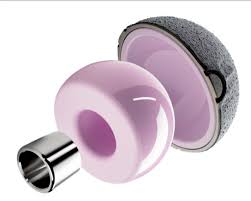 With an increasing life expectancy of the population as a whole, there is now greater than ever before, the desire for greater mobility and improved quality of life after Hip Replacement Surgery. Furthermore, the incidence of Hip Replacement Surgery in young and active patients is also increasing. Consequently, Hip replacements must be able to offer longer implant lifetime. Current research is focusing on new materials and ceramic can play an important role in increasing the lifetime of the components.
The most important Problem with Metal Implants: Wear
Hip replacement implants are usually made from either cobalt-chromium alloy or titanium alloy. A plastic implant made of polyethylene is used as "artificial cartilage". Clinical evidence and long-term results show that aseptic loosening limits implant lifetime. One of the most important causes of aseptic loosening is the wear of plastic components made of polyethylene. As demonstrated in many investigations, an increased rate of polyethylene wear can lead to an increased rate of loosening as a result of the formation of granuloma and foreign-body reactions with associated destruction of bone stock. Literature also suggests that immunological and allergic responses to metallic elements (cobalt, chromium and nickel) contained in the alloys used in metallic implants are also a possible cause of aseptic loosening and post-operative complications such as delayed wound healing and skin reactions.
Ceramics provide Advances in Hip Replacement Surgery
In collaboration with international orthopedic companies, CeramTec has set its focus on significantly increasing the life of artificial Hip joints by reducing the wear rate and the risk of allergic response, by introducing ceramic Hip components. In addition, ceramics do not cause allergic reactions. Ceramic Implants for hip joints have been adequately tested and have been proven to be the best choice as an interface with some reservations. I will be discussing these possibilities with you before finalising the surgery.