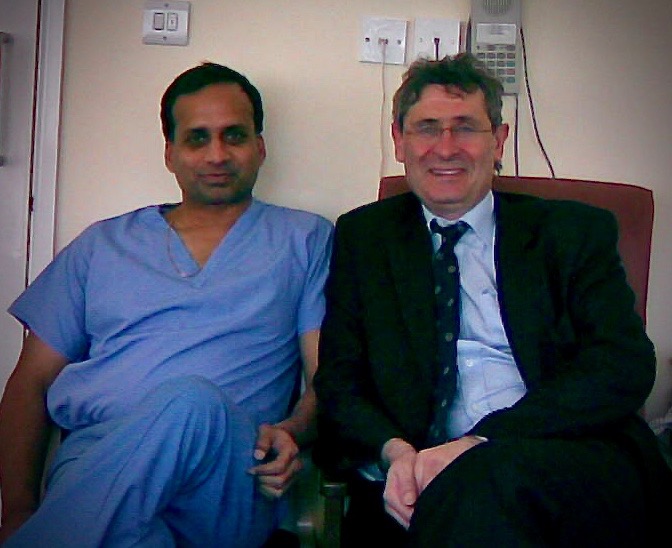 Medical Training
After completing primary school education at Cuddalore, pursued secondary schooling at the Madras Christian College School till 1973.
Basic Medical Training
Joined basic medical training at Thanjavur Medical College, Tamilnadu in 1974. Completed MBBS in 1979. After internship and special training in general surgery at the Government General Hospital in Chennai, left for UK in 1982.
UK Training
Started basic Orthopedic training at the Coventry and Warwickshire Hospital, Coventry midlands, England, in 1983 as Senior House Officer under the guidance of Mr. Aldridge, Mr. Blakemore, Mr. Clegg, Mr. James and Mr. Williams. MR. Derek McMinn who later the designed the Birmingham Hip Resurfacing technique
Joined the King George Hospital, Ilford, Essex, England, in 1984, for training under the arthroscopic surgeon Mr. John Ireland. After a brief stint at Dover, Kent, in Vascular and Urological surgery under Mr. Griffiths Mr. Derry and Mr. Glynn Thomas, returned back to King George Hospital, as Registrar in Orthopedics for a period of 2 years. During this period gained experience in Total knee and Total Hip replacement, besides arthroscopic surgery.
After passing the qualifying Primary FRCS exam in 1983 and the Final fellowship in 1985 at the Royal College of Physicians and Surgeons of Glasgow I was awarded the diploma of FRCS by the Glasgow Royal College in 1987. Spent the final year of UK training at Bedford General Hospital, Bedford, England, under Mr. Rawlins and Mr. Baker, before returning to India, in 1990.
Chennai
Joined Tamilnad Hospital, Chennai as the first Consultant Orthopedic Surgeon and was instrumental in building up the department for this new corporate hospital. Served as Chairman of Pharmacy & Therapeutics Committee.
Moved over to Sundaram Medical Foundation Hospital in 1994, a new community hospital at Anna Nagar, Chennai, as the Head of the Orthopedic department & Chairman of Operation Theatres Committee. Joined Apollo Speciality Hospital, Chennai as Senior Orthopedic Consultant specializing in Joint Replacement and Spine Instrumentation Surgery
Colombo
Joined a team of Orthopedic surgeons at Apollo Hospitals, Colombo as Senior Consultant in Orthopedics with special interest in Joint Replacement and Spine Instrumentation Surgery for a period of one year.
Chennai
Practicing at Apollo Group of Hospitals and The Guest hospital at Chennai, as A Specialist Joint Replacement and Spine Surgeon till march, 2013. Currrently, Heading the Department of Orthopedics and Joint Replacement program at the Fortis Malar Hospitals, Adyar, Chennai. Brief Observership in MIOT Hospital in 1989 for a month.
Fellowships
England
Spine Surgery, Nuffield Orthopedic Hospital, Oxford, UK, in 1990; Pediatric Orthopedic Surgery, Nuffield Orthopedic Hospital, Oxford, UK, under Mr. Benson in 1990Germany
Spine Instrumentation Surgery training at the Muenster University Hospital, Muenster, Germany, under dr. med. Henry Halm, in March, 1998
USA
Total Hip Replacement Surgery, Anderson Orthopedic Research Institute, Arlington, Virginia, under Dr. Charles Engh, February, 2000
Total Knee Replacement Surgery, Anderson Orthopedic Research Institute, Arlington, Virginia, under Dr. Gerard Engh, February 2000
Shoulder Replacement Surgery, Washington, DC, under Dr. Charles Rockwood February, 2000
Total Joint Arthroplasty, Good Samaritan Hospital, Los Angeles, under Dr Lawrence Dorr, March, 2001
Italy
Unicondylar Joint arthroplasty, Istituto Ortopedico Galeazzil, Milan, under Dr. Sergio Romagnioli, June, 2003